I believe it's true that there's no such thing as an original idea. Even so, amazing things can happen when the right ideas come together at the right time.
I've mentioned before how the One Shot podcast has inspired my attempts to bring straightforward, accessible roleplaying to a new audience with Forest of Fate, but that's far from the only source that's inspired me.
Of course the usual fantasy fare applies: Tolkien gets a huge amount of credit for sparking my interest in the genre in the first place, as does Pratchett for casting world-building in a whole new light. I'll never forget the first time I read the Hobbit under torchlight and bedcovers as a child, and I'm still laughing my way through the Discworld novels to this day.
"Fantasy is an exercise bicycle for the mind. It might not take you anywhere, but it tones up the muscles that can."
I'm also a strong believer in the good that imagination and play can bring to people's lives. Take a look at this TEDx talk to see why.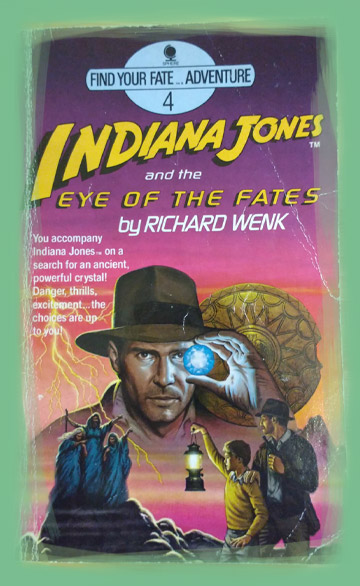 Adventure awaits!
Right next to the fantasy area of my brain lives Adventure. From movies like the Indiana Jones trilogy, Cutthroat Island* and James Bond to point-and-click games like Monkey Island*, I have always been a fan of the thrill of the chase, the lost artifact and the over-the-top villain.
* Maybe my next game should be the pirate-themed "Fathoms of Fate"?
The "choose your own adventure" books are another source of inspiration. You are probably familiar with the Goosebumps series, but the format existed long before the R. L. Stine classics. The Find Your Fate series is a personal favourite, and one inspiration for the name Cards of Fate (despite the numerous other board games that seem to be emerging right now with eerily similar titles). Even though the actual mechanics in Forest of Fate are different, I like to think of them as distant relatives.
So if you're not already a fan of Fantasy and Adventure, maybe Forest of Fate can be your in-road to a whole new world. If you are, maybe you can invite someone else along for the ride?
---
This has been a post from the Cards of Fate Design Diary. If you like what you've read and you're interested in keeping up with the very latest please follow @CardsOfFateLtd on Twitter and share this post!
As a small independent with minimal marketing budget I rely heavily on the kindness of people like you to spread the word and make this entire venture possible.